Local farmers provide produce for Aberdeen schools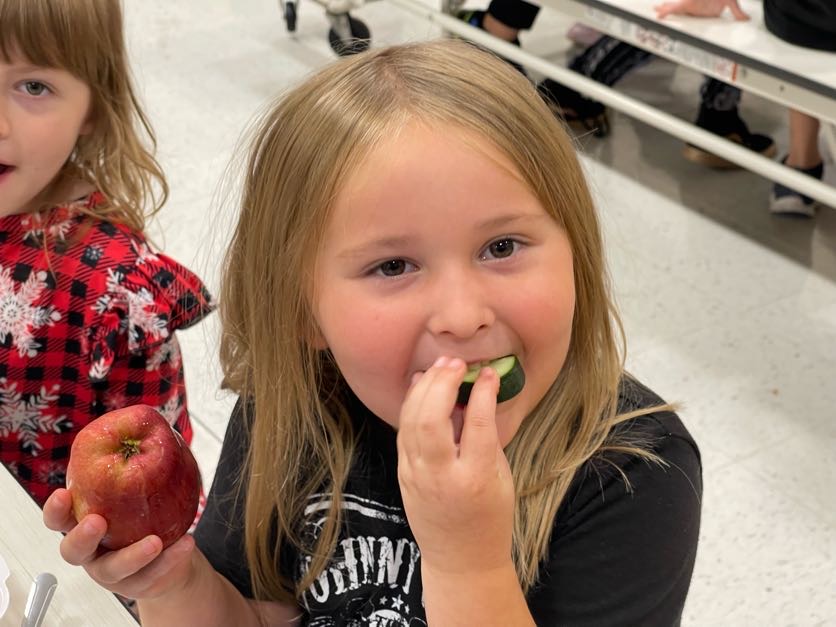 Here's an awesome story from KELOLAND News about how our teams at Aberdeen Public School District are serving locally grown produce to students and participating in the state's Crunch Off competition! Many thanks to David Geditz of Geditz Farms in Ipswitch and Willie Watts in Huron for their partnership, and to our Food Service Director Jason Albert for his great interview.
By: Gracie Terrall
Posted: Oct 3, 2023 / 05:08 PM CDT
ABERDEEN, S.D. (KELO) – Students in the Aberdeen Public School District are 'crunching' into some local produce this month as the district participates in the South Dakota Crunch Off competition.
The annual event encourages 'farm to school' nutrition by collaborating with local farmers to provide fruits and vegetables for school cafeterias.
"It's amazing to see how many slices of watermelon will fly out of a lunch room in a day," Jason Albert, Aberdeen's food service director, said. "Children are enjoying fruits and veggies that maybe they never thought they would. I've seen kids enjoying kiwi that I never thought would have tried to kiwi in their life and they love it."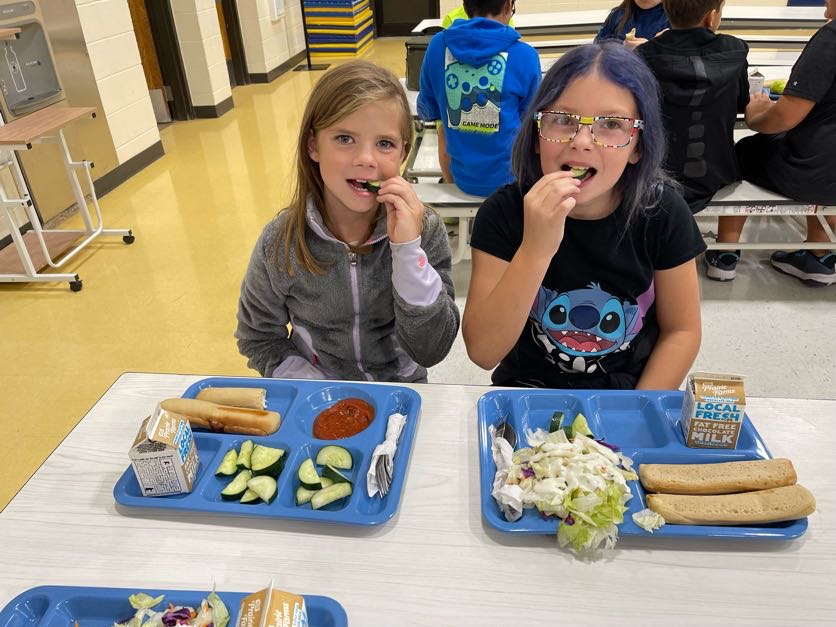 Students at Lincoln Elementary in Aberdeen, SD, crunch into fresh fruits and veggies as part of the state's Crunch Off event. Photo credit: Katie Ter Wee, Lincoln Elementary
Aberdeen is partnering with a farmer in Ipswich for carrots and cucumbers and a farmer in Huron for cantaloupe and watermelon. The locally grown fruits and vegetables are delivered to all nine Aberdeen schools every week.
Along with serving fresh produce in the cafeterias, the Crunch Off event also includes students learning about agriculture and where their food comes from in the classroom. Teachers are encouraged to implement produce-related activities like coloring pages, word searches, bingo and crossword puzzles into their lesson plans.
"When kids feel connected to the food that they get to eat, they feel more excited about it and are more likely to eat those foods," said Anna Tvedt, an SDSU Extension nutrition field specialist. "Especially with these being fruits and vegetables, we want to make them excited for that and hopefully increase their intake of healthy foods."
The South Dakota State University Extension office runs the Crunch Off program. Anybody can participate in the event by signing their group up online and posting photos of them eating the fresh produce on social media with the hashtag, #SoDakCrunch.
"Just grab a local fruit, grab a local vegetable, just take a big bite and enjoy," Albert said. "Take a selfie chewing on a carrot and then tag it as South Dakota Crunch Off."
Albert said the program will open doors for the school to partner with more farmers in the future and really make the 'farm to school' initiative a community effort.
"We want to see how can we utilize the resources of our community in general, how can we bring in fresh beef as well or what can we utilize in our community to bring the resources that we already have locally into the schools," Albert said.
Along with providing fresh produce and food education, the Crunch Off campaign is also a competition between nine states in the midwest to see who can get the most "crunches per capita."
South Dakota had 2,201 people participate last year, however, we ranked in 6th place among the other states. South Dakota competes against Colorado, Missouri, Kansas, Nebraska, North Dakota, Montana and Wyoming. Tvedt said that out of the three years South Dakota has participated, Nebraska has won every year.
Despite the state's slow introduction to the Crunch Off, Albert says he's focused on getting more local produce on a student's lunch tray and educating them about where their food comes from.
"We've got such good produce in the area that gets shipped out so often that people kind of forget that," Albert said. "There's good healthy snacks around us everywhere. We have opportunities to eat healthy, be healthy, and have it at our fingertips whenever we want."