Hear What Our Team Is Saying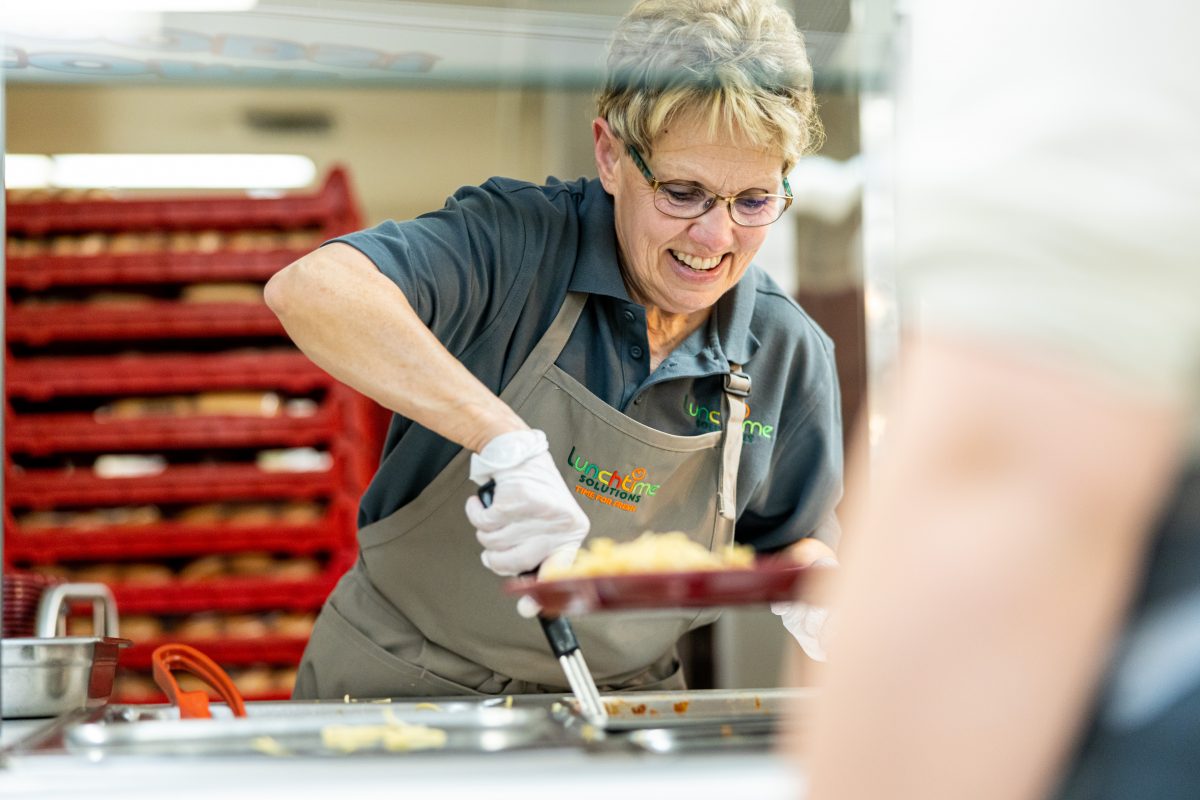 We believe our Lunchtime Solutions' team is the best in the business. We all take pride in providing great service and fresh and delicious food that helps fuel the minds of the future. Below, you can learn more about why our incredible team members enjoy working for Lunchtime Solutions in their own words.
If you'd like to join our team, click here to visit our Careers page.
See what our team's members have to say when asked "What do you like about working for Lunchtime Solutions?"
Head Cook - IA
Serving nutritional meals and options to all the school children and seeing them happy with the choices that we provide.
Kitchen Helper - NE
El trabajo me satisface, y aprendo algo todos dias. (Translation: I like the job and I learn something every day.)
General Accountant - SD
I enjoy the flexibility of my job when family matters come up. It is very nice working of a company that cares about the employee's work life balance.
Dishwasher - MO
For the first time in a long time I actually look forward to going to work. The group of ladies I work with are the true definition of team and we all work together seamlessly. Seeing the kids' faces and hearing them say how much they liked the food served that day always makes you feel good about the service we are providing.
Food Service Director - SD
Meeting and working with the people in the kitchens. I get to know them on a personal level. Most are very dedicated to making a positive impact on the children that eat hot lunch.
Food Service Director - SD
I like the structure of the job title of Food Service Director. In a sense, I am my own boss, I get to do promotions, manage my staff and have fun building relationships in the district.
Cook - NE
I love the hours but most of all I feel like I am making a difference in the lives of our kids!!! It takes a village!
Food Service Director - NE
The way the company strives to provide the best service and product to all schools and grade levels. I have really enjoyed working with everyone at Lunchtime.
Jr. High Kitchen Manager - NE
Good communication with management. Good benefits, PTO, holiday pay, 401 retirement plan.
Cashier - NE
Communication is very good, from the top on down to us. Everyone is kept informed. We all pitch in to help one another. Of course, I like working with children and the public.
Kitchen Manager - NE
I like that they get involved with the school itself on projects and treats the employees with respect.
Kitchen Helper/Server - IA
I appreciate the flexibility and support my team has in accomplishing a supportive life, work, balance.
Cashier, Prep Cook - MO
The kids, the schedule, my coworkers, the PTO hours.
HR Generalist - SD
Company culture, work/life balance, living our company values and my boss.
Head Cook - IA
The people that I work with are a great crew. I like that there is more kids that eat our meals due to the selection of main entrees that we have to offer. The students also like that there is a variety of fruits and vegetables on the salad bar. The sub bar was a new addition this year, which the kids really like. The people that I work with are a great crew. I like that there is more kids that eat our meals due to the selection of main entrees that we have to offer. The students also like that there is a variety of fruits and vegetables on the salad bar. The sub bar was a new addition this year, which the kids really like.
Talent Acquisition - SD
The people I work with are very welcoming and happy to answer all of my crazy questions. There are several committees (Safety, green, wellness, values, etc) to be involved in, it's great to be a part of a company that is always trying to improve. I've been impressed with the company's outlook on being green. We aren't just talking the talk, we are finding ways to recycle and reduce the waste.
Kitchen Helper/Server - MN
I enjoy the hours and the summers off. I'm retired and don't like sitting around all winter, so it is perfect for me. We also have an amazing group in our kitchen.
Kitchen Helper/Server - SD
I appreciate the supervisor Deb Emmert, who is always there to answerer any questions or concerns that we have. Lunchtime encourage the kitchen employees to participate with the student's activities for example when they have dress up days for homecoming. Decorating the kitchen for the holidays. It's just an enjoyable place for me to work. The safety incentive is a great asset that the company has put into their program.
Dishwasher - SD
It affords me the opportunity to be involved in not only doing a job that I was hired for, but also interacting with young children in a way that can be educational (not only teaching them rules & procedures but having them see the respect we all have for each other because we do work & intermingle with each other).
Food Service Director - IA
I love that everyone at lunchtime solutions is so helpful. I always have lots of support. If I don't know something, I know I can reach out and get a quick response back. They also have lots of incentives to make staff feel appreciated.
Director of Business Development and Marketing - SD
I love the culture! Fostering relationships with not only the customers but the employees is essential to Lunchtime. I have been given so much support to grow and learn in various positions and feel valued every day that I come to work. They embrace ideas and are so passionate about giving students the best choices possible. Making a difference in so many students lives every day is a gift and I'm blessed to work for a company that lives by their values and appreciates everyone that works for them.
Kitchen Manager - MO
It is a good company to work for great with working on solutions to give the kids a healthy meal options:) Debbie Farr is awesome to work with!
Kitchen Helper - NE
Working around the kids, drama free workplace, employees and boss are very nice and always answer questions or teach me new things!
Business Development and Relationship Manager - NE
Working for Lunchtime Solutions allows me to fuse my passions for food, teamwork, and creating partnerships to serve students, families and communities.
Kitchen Helper/Server - NE
I like seeing the kids daily and greeting them to maybe brighten their day some. I love to prep vegetables kind of therapeutic some days.
Kitchen Manager - SD
The food at Lunchtime Solutions is good quality and they have a wide variety of main entrees. The recipes are well written, and the kids have many healthy options including the fruit and veggie bar. The upper management and cooperate employees are very welcoming and appreciative of our hard work and efforts. I feel it is a great company to work for.
Assistant Food Service Director - MN
I like many things about my job. I love being around the kids. I really like working when my kids are in school. It's a job that I feel has the right balance of routine vs. variety in each day.
Head Cook - NE
I like the kids, teachers, staff and my co-workers. I like providing good food to these kids-for some of them, it's the best meal they'll get in a day. I like encouraging kids who look like they're having a bad day. I like messing with them a little. When we have Subs as a choice, they'll just say "Sub." And I'll say, "Nothin'-'sub with you?" I like to do or say something that makes them smile.
Food Service Director - NE
I enjoy working for Lunchtime solutions because I enjoy making a child smile, and an enjoyable experience at the lunch line.
Food Service Director - NE
Teamwork, flexibility, constant support, and trainings. Working with Brandy P., she is so knowledgeable, positive, and encourages us all to strive improve.
Kitchen Helper/Cashier - SD
The atmosphere is wonderful to work in. The employees, teachers, and students are friendly, and everybody loves to eat! The hours that I work make this the perfect job for me while raising school-aged children.
Kitchen Helper - NE
It's a nice, positive environment. Easy work.
Food Service Director - SD
It's a great company that really keeps its employees' best interests in mind! Although it's grown exponentially over the years, it still feels like a small company and family.
Kitchen Helper/Server - NE
I enjoy the excitement the children display when they come to the fruit and veggie bar. My favorite thing that I ever heard was from a young boy that said, "Mommy doesn't have the money to buy these for us to eat at home". He was referring to canned pineapple. Something the rest of us take for granted.
Food Service Director - SD
There are so many reasons I like working for Lunchtime but I'd say the biggest reason is that before this company came along, I was working 3 part- time jobs with no clear path and running myself ragged. After accepting the job as food service director for this company, I became a woman with a career that I love!
Head Cook/Cashier - NE
My coworkers and the atmosphere.
Area Director - NE
I like the overall culture, our mission, and having flexibility.
President - SD
I worked for 10 years in the healthcare field (and for two different food service management companies) before starting my career journey with Lunchtime Solutions 20 years ago. I often reflect upon why I'm still here at Lunchtime Solutions. It really boils down to a culture and values fit from day one, and the opportunity this company has provided me and so many other people as we have worked together to make a positive difference for our student customers. People who fit our culture and live our values are what made this company what it is today and for that I am grateful and proud. It's the people I get to work with who set us apart from other food service management companies and it's why I continue to look forward to what's ahead for us in the future!
Food Service Director - NE
Small company atmosphere. They care about you and your concerns. Locally sourced is a plus.
Food Service Director/Office Manager - SD
The first few years it was the flexibility with my children. Then – opportunity for growth; to meet new people in my travels; supporting the growth of new people with the company Now -stepping back but still here with an income I'm able to pursue some personal interests since I am no longer traveling.
Business Development and Relationship Manager - SD
I love the Culture that has been built here, as a new employee with very limited experience in this field (6 months), I feel comfortable bouncing ideas off the President of the company. How many people can say that about where they work??? I also love that the company lives their values. Most places have them and go over them in orientation, Lunchtime uses them to make decisions daily.
Kitchen Helper/Cruisin Line - SD
The hours are good, and I love the smiles I put on the kids face every day.
Food Service Director - SD, NE and IA
Working with the administration and the kids. Having multiple staff and resources to get information and answers to questions.