KCAU: Siouxland students head to culinary camp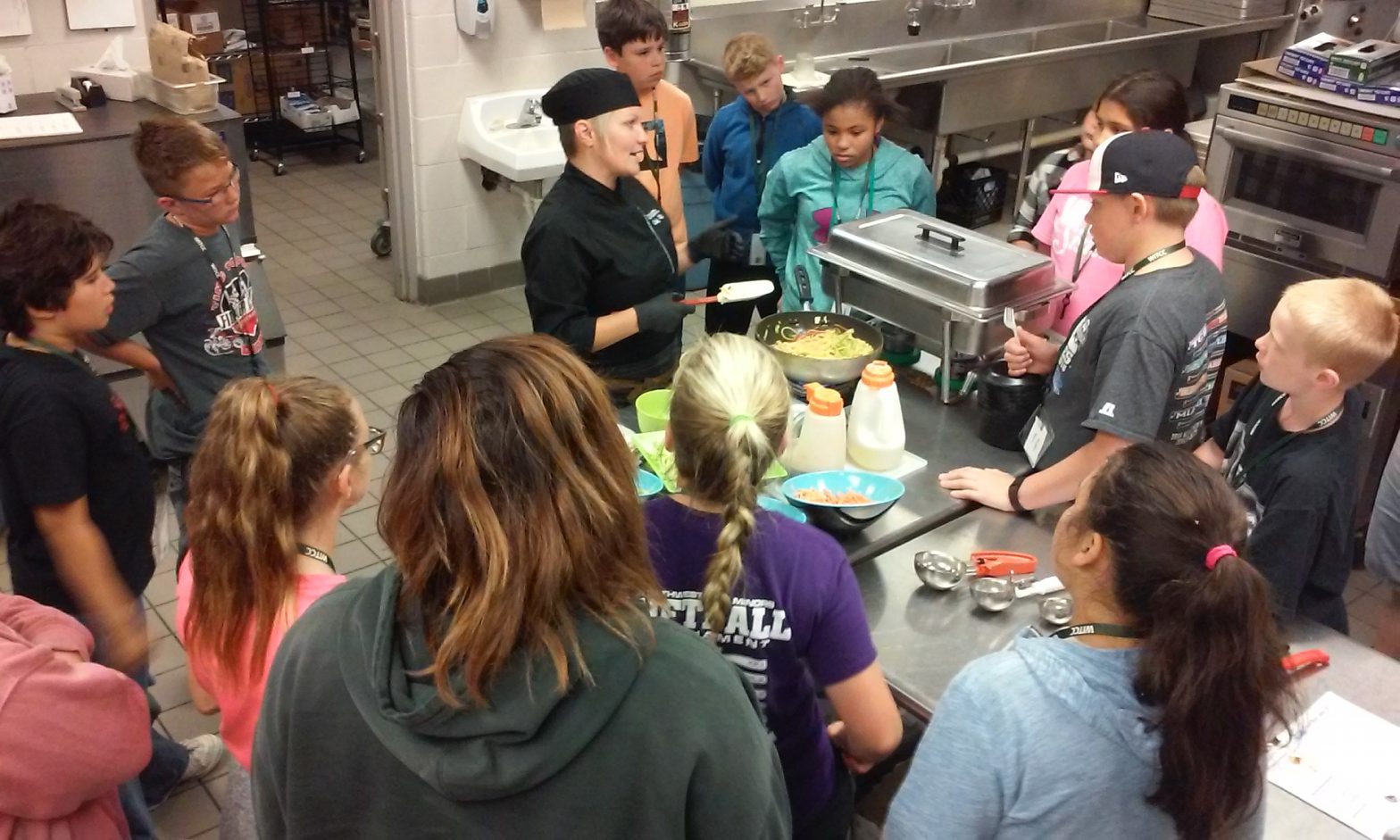 NORTH SIOUX CITY – Siouxland middle school students got a taste behind the scenes of school food service with Lunchtime Solutions and Dakota Valley School District.
Attendees of Western Iowa Tech Community College's culinary camp experienced a cooking demonstration with Ali Lampman, LSI menu research and development chef, and toured the Dakota Valley Middle School kitchen. Lunchtime Solutions, a K-12 food service management company based out of Dakota Dunes, SD, has operated Dakota Valley's food service program for 20 years.
Check out this video narrated by KCAU 9 TV News Anchor Tim Seaman about the event:
https://www.siouxlandproud.com/news/local-news/siouxland-students-head-to-culinary-camp/745605982
WITCC chose to partner with Lunchtime Solutions in order to teach them more about creating delicious food dishes and expose students to different careers in food service, said camp coordinator Karrie King, WITCC career and industry recruitment specialist. The children got to taste, give feedback and ask questions about the vegetable lo mein Lampman prepared.
"Instructing children on healthy food and lifestyle is a priority at Lunchtime Solutions even when school is not in session," Lampman said. "During the school year, we have chefs like myself on staff who travel between our school districts to make healthy foods kids might not be used to eating at school, like Chinese stir fry or chicken Florentine. They get to see it made right in front of them, so they know all the ingredients it takes to form a healthy dish."
Some students enjoyed the lo mein recipe so much they went back for seconds, Lampman said. They also chatted with staff about their favorite lunchtime meals and what they'd like to see on the menu at their schools.
"Chicken nuggets were the most popular. We know that so we keep them on the menu at our schools," she said.
The 4-day culinary camp was led by Chef Brett McCarthy, Culinary Instructor. By morning, the students participated in several culinary activities in WITCC's new state-of-the-art culinary arts facility. In the afternoons, they visited industry-related sites and activities tied to their training that morning.
"We are hopeful that these students will gain an interest in careers in school food service and increasing the amount of quality, healthful food served at their own schools," Lampman said.
The camp was organized in conjunction with the college's Intermediary Network, a program to prepare students for the workforce by connecting businesses and the education system and offering relevant, work-based learning activities to students and teachers.
Lunchtime Solutions professionally manages foodservice operations in 50 school districts in six states: Nebraska, South Dakota, Missouri, Minnesota, Iowa, and Colorado. Launched with a single school district in 1997, the locations served by LSI have grown quickly based on the quality of the foodservice experience provided to students, faculty and staff, along with the professional foodservice management services provided to the District administration.
Lunchtime Solutions was named to Food Management magazine's annual Top 50 Contract Management Companies for the first time in 2017, the year it is also celebrating its 20th anniversary.