School Food Service Works To Fuel Young Minds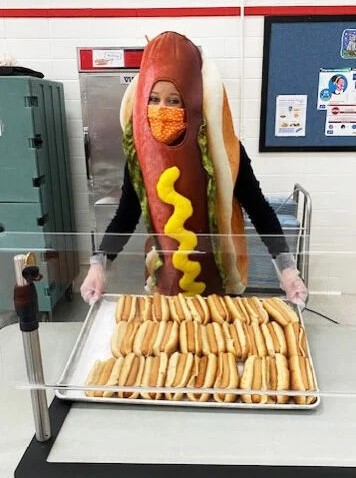 We were excited to read this article in the Vermillion Plain Talk about our program at Vermillion School District and our team who runs it, along with kudos for Food Service Director Rachelle Loutsch. We're grateful for school board member Mark Winegar's recognition of Team Vermillion's awesomeness. Thanks to every single member of our team for living our values while fueling the minds of the future!
By Mark Winegar For The Plain Talk Apr 7, 2023
I first met Rachelle Loutsch during the first summer of COVID-19 as she and her crew were distributing free meals to children of the community. She needed volunteers to help distribute the food at the front entrance of the middle school and so I decided to volunteer one morning to the effort. It was hard work, but she made being part of her team so much fun I stayed the course. So, as I write about the special people of our district, I must include her and her team.
Rachelle has served as Food Service Director for five years and leads a team of "15 talented and dedicated women and men."
The Vermillion School District (VSD) is unique as it is a transport operation preparing food daily in a central production kitchen to serve at Austin, Jolley, St. Agnes, the middle school and high school, and Head Start programs at Trinity Lutheran and Vucurevich Children's Center. That amounts to as many as 250 breakfasts and 1,150 lunches daily.
A typical day's menu varies by grade.
Junior kindergarten through fifth grade students have two menu options. One is a homestyle entree, such a spaghetti or mac and cheese. The alternate entree is typically a sandwich, or non-homestyle item such as mini corn dogs or popcorn chicken.
Middle and high school students have a choice of five to seven entrees with a fruit and vegetable bar daily. Popular items are pizza, cheeseburgers, mini corn dogs, and other homestyle dishes such as … These students may elect a la carte "Smart Snack" compliant items as well including chips, ice cream, snack crackers, and more with a special focus on whole grain richness.
Mrs. Loutsch describes a good day as "fully staffed." Adding, "breakfast is promptly served 7:55-8:15 a.m., staff gathers at the middle school to prepare the lunch [as well as the] fruit veggie bar for day, the transport driver has the hot/cold carts on the truck by 9:55 a.m., food is delivered on time … before 10:50 a.m."
It doesn't end there. One or more schools may call in requesting more food between 11 a.m. and noon so the transport driver may need to make additional deliveries. Once the students have been fed, the driver collects the cold, hot, and silverware carts which are cleaned for the next day.
The kitchen team hustles to get the job done but they love what they do. They care about the children and each other. They help one another. I saw this firsthand during my time with them.
Rachelle said, "I have always been a believer [that] you have to want to want to be at work" so she makes work more fun by sharing her sense of humor and creating a work-family environment.
I asked Rachelle about her greatest challenge on the job.
She said, "making sure every student going through the lunch line, regardless of time of day, grade, or lunch line, is given the same options. There are many factors in the food system outside of her control that can get in the way including food shortages, out of stock listings, and mis-forecasting." It is a daily challenge.
There's much more I could say about Rachelle and her staff, but I fear this is getting a bit too long-winded as is. I have so much more praise for these marvelous people. When I shared this concern with Rachelle, she suggested omitting the parts focusing on her which I would never do as I marvel how such a young woman could possibly have learned so much about leadership in such a short time.