National School Lunch Week in Spearfish, SD: Not all "Hometown Heroes" wear capes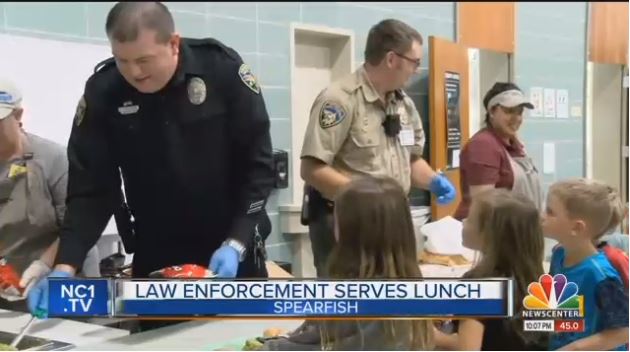 Many thanks to KNBN-TV Newscenter1 and KOTA Territory News out of Rapid City, SD, for coming out to do features on this unique Hometown Heroes event, where police officers, fire fighters and other officials served lunch to students in celebration of National School Lunch Week. Organized by Food Service Director Coree Walker, the Hometown Hero volunteers visited each school in Spearfish throughout the week. What a great way for kids to meet the people who serve and protect them!
Click through the story titles to see the cute videos — they'll be the best two minutes of your day!
Posted: Oct 11, 2017 1:25 PM CDT  Updated: Oct 11, 2017 3:12 PM CDT
In honor of National School Lunch week members of the Spearfish Police Department and Animal Control are serving up fruit, milk, hot dogs, and Mountain View's signature gluten-free "Taco in a Bag." Students also have access to an unlimited fruit and salad bar.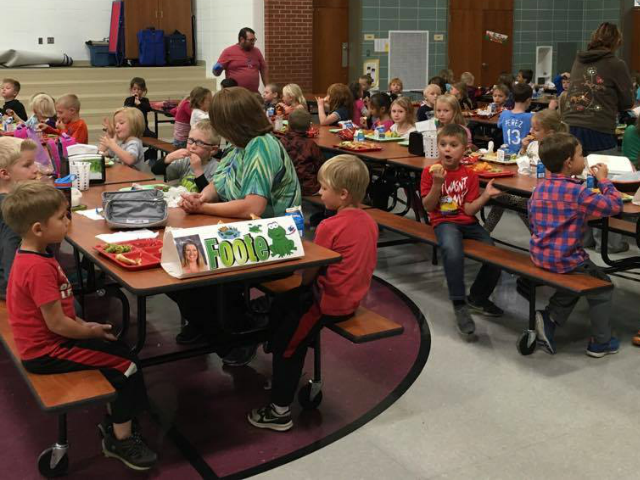 By having officers serve their favorite lunches with a smile, the kids are introduced to law enforcement in the community in a friendly and familiar environment.
According to Coree Walker, the Spearfish food service director, many of the youngsters, don't see servicemen and women in school.
"Especially at this kindergarten age group, you get a lot of curiosity," said Walker. They're a little confused because of the change in personnel. At the same time, they have a lot of fun with 'Who are you? What are you doing here? Wow you're big!', things like that," she laughed.
Through the course of the week, Spearfish Police, the Lawrence County Sheriff's Office, local firefighters and EMTs will serve lunches to students all over the district.
School leaders also hope that the kids' exposure to healthy food will set good eating habits for students.
"It's an opportunity to acknowledge our hometown heroes and let the kids experience something different during lunch service," Walker said. "We did this last year on a smaller scale for National School Breakfast Week and it was a huge success. The kids thought it was awesome and the officers had so much fun."
By Jill Langland |
Posted: Wed 4:58 PM, Oct 11, 2017  | 
Updated: Wed 6:24 PM, Oct 11, 2017
SPEARFISH, S.D. (KOTA) – Hometown heroes do not wear capes, but they were at West Elementary in Spearfish serving lunch to hungry students.
In celebration of National School Lunch Week, the Fire, Police and EMS departments volunteered their time to help serve lunch. They did this on a smaller scale last year for breakfast, but the students enjoyed the time with these heroes so much that they switched to lunch. And the students were not the only ones touched by the event.
Tate Hayford, an animal control officer, enjoyed making the students' day a little brighter.
"Fun coming up seeing the kids, seeing some of their reactions makes it all worth it. To see them having a better day and laugh and joke. And to let them know that emergency services are here to help them," said Hayford.
Tatum Martin, a second grader at West Elementary, was awestruck when he saw those heroes serving him his lunch.
"They gave us all "fives" and they told me how it was like saving people – and I think they are like superheroes," said Martin.
"Hometown Heroes" lunch will continue until Friday.