Hastings Tribune: Lunchtime Solutions springs fresh asparagus on students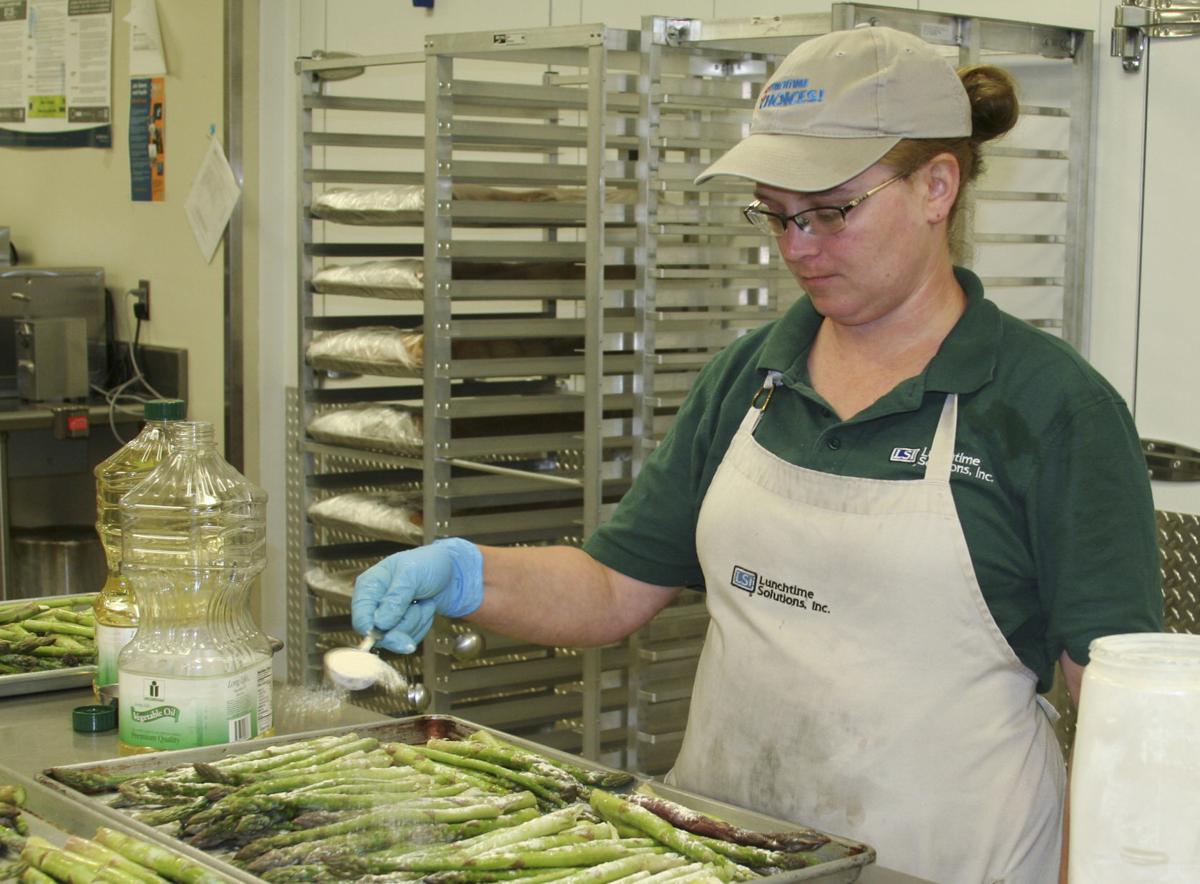 Even though the asparagus crop was a little behind this year due to weather, we wanted to make sure our students got to taste the veggie at its freshest! The Hastings Tribune wrote an excellent story about our Farmers Market Selections program to promote locally grown fruits and vegetables on our unlimited fresh fruit and veggie bars, highlighting our partnership with Mike Ely of Ely Farms in Grafton, NE, that allowed us to serve nearly 600 pounds of locally grown asparagus to students at Hastings, Holdrege and York Public Schools. Read on to learn more about it!
Lunchtime Solutions springs fresh asparagus on students By Shay Burk
JaDonna Mazour began to drizzle oil and garlic onto pans of washed and dried asparagus before putting them into the oven.
In an hour's time, Hastings Middle School students were moving through the lunch line adding the freshly roasted asparagus spears to their trays.
"It's absolutely beautiful asparagus," said Susan Gracey, area director with Lunchtime Solutions.
In the last few days of the school year, Hastings Public Schools students were treated with fresh asparagus from a local farm.
Each month of the school year, Lunchtime Solutions features one fresh produce item and most of the time they're locally grown.
The asparagus was grown by Ely Farms near Grafton and was originally slated to be the featured product in April.
"This was probably the most difficult season because it was cold so long," said producer Mike Ely. "We were two to three weeks, probably closer to three weeks late starting with picking and with the deadline to get it with school ending it was kind of nip and tuck at the end."
Gracey works with local producers across Nebraska and primarily in central Nebraska to provide fresh produce to schools in the area.
This school year students have experienced fresh sweet corn, watermelon, cantaloupe, apples, butternut squash, rhubarb, eggplant and avocados.
"It's just introducing the kids to new things," Gracey said. "They may not be having it at home or try it any other time in their life."
With the asparagus, Gracey ordered between 600 and 700 pounds from Ely Farms to supply school kitchens in Hastings, Holdrege and York.
"That is a lot of asparagus," Ely said of the order.
The asparagus business began about 20 years ago when Ely's middle son Neal was going into high school and needed a project for FFA. He planted about a quarter acre of asparagus that he grew and began to sell.
Later he started making pickled asparagus that he sells in stores across central Nebraska to this day.
Twenty years ago, Mike said he was farming full time and his wife, Tami, was working so they weren't sure how the asparagus business would work. With four acres of asparagus today, however, Mike said he commits time each spring to the asparagus business.
Neal is still involved and works primarily with the pickled asparagus side of the business.
The family hires local kids to pick the asparagus at 50 cents a pound, giving them the opportunity to make $10-11 an hour.
This season the family is selling the fresh asparagus on their farm using the honor system. People can stop by their farm and pick up a bag of asparagus and put their money in the box.
For the school orders, Gracey said she picked it all up using her son's pickup truck. Her order was more than a few bags.
She said she was thrilled to have the produce so close by.
"We love to work with local people," she said. "Any time we can get a locally raised product we want to."
As for the reaction of the kids, Gracey said there's always mixed reviews with every food item, but overall she said the response was positive.
"Some of the kids didn't know what asparagus was, some really liked it and have had it before," she said. "So it's always interesting to see what they think."
To learn more about Ely Farms, visit elyfarms.com.