Gothenburg Public Schools Introduces New Director and Food Service Program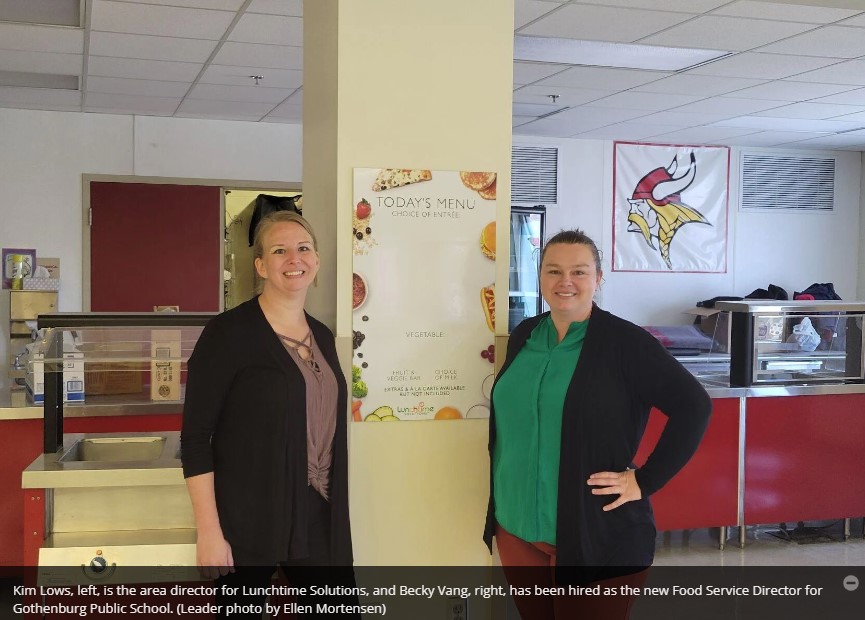 Check out this great introduction from the Gothenburg Leader to our new food service program at Gothenburg Public Schools and Food Service Director Becky Vang!
By Ellen Mortensen, Gothenburg Leader August 10, 2023
Gothenburg students head back to school next Wednesday, Aug. 16, and along with a few new faces in the classrooms, there will be a slightly new experience in the lunchroom.
When long-time GPS Food Service Director Joni Jacobsen announced last year that she plans to retire at the end of 2023, the district began looking for a replacement and discussing options. After much research by the administration and school board, the decision was made to hire Lunchtime Solutions to operate the district's food service program.
Kim Lows is the area director for Lunchtime Solutions, a third-party food service management company based out of Dakota Dunes, South Dakota. The company has been around for 26 years and now serves school districts in five states.
"We are here to feed the children and nourish healthy minds, so we are bringing a fresh take to school lunch," said Lows. "We are bringing reinvented meals and do a lot of fusion to get the kids interested. We also do an unlimited fruit and vegetable bar."
Lows gave examples of some of the fun and unique items that will be included on the fruit and vegetable bar including a variety of salads, and things like "glitter grapes" – grapes dipped in Jell-O powder. "Kids just go crazy for those things," she said.
There will be homestyle options daily, including items like creamy mac & cheese, spaghetti, goulash, Chinese, etc. Homestyle pizza will be offered every Friday, and starting in October Pizza Hut will be coming in once a month.
Students will have the option of four main lines in the cafeteria. Two of the lines will be dedicated to the main homestyle options, a pizza station, and a cold line that will feature vegetarian options and a sub bar. The subs are made in-house and wrapped up, then the students can choose from a variety of toppings for their sandwiches. There will also be ala carte options so students can purchase seconds on any of the items.
Aside from planning the menus and supplying the inventory, Lunchtime Solutions also manages the kitchen staff. "We take care of everything, the ordering, and the menus. We have a lot of people in the background," said Lows.
GPS Superintendent Dr. Allison Jonas added, "From my perspective, it has been super helpful. Kim came in and totally knew what she was doing and was able to just hit the ground running. She handled all of the hiring and training of the new staff, and that has been a huge relief."
Rules and regulations for a school kitchen to be in compliance are staggering. Jonas said the RFP (request for proposal) for lunch programs was around 93 pages long. "The requirements are unreal when it comes to school lunch," said Jonas. "This was a great opportunity for us to partner, and we give a huge thanks to Joni (Jacobsen) for giving us so much of a heads up on her retirement. The process needs to start in January for the following school year, so we are truly grateful to Joni."
Jacobsen is still employed at the school until around Christmas time under the new title of Nutrition Records Specialist. She is helping train the new elementary administrative assistant on the paperwork for the lunch program.
Filling the role of the new Food Service Director is Becky Vang. A native of Hawaii, Vang relocated to Oregon in 2007 and attended culinary arts school there. "It was my passion, but I was a single mom and it just wasn't quite the right fit for me at that time," she explained. "So I moved into the management field and have been doing that for the last 10 years. I love people and love managing."
Vang and her husband Andrew moved to Nebraska in September 2022, and in January they purchased an acreage south of Gothenburg. She had been working in North Platte and said when this opportunity came up she couldn't pass it up.
"My twins are 17 and will be seniors this year at Gothenburg, so I talked to my husband about how wonderful it would be to get back into what I am passionate about," said Vang. "I am very, very excited to take my management knowledge and my passion for food and come up with new ideas."
"Becky is a perfect fit – I couldn't be more happy to have her on board," said Jonas.
"We are really excited to be part of the community," Vang added. "I'm excited to get back into what I'm passionate about and am so excited for this opportunity."