Belle Fourche School Summer Meals Program Reaches More Students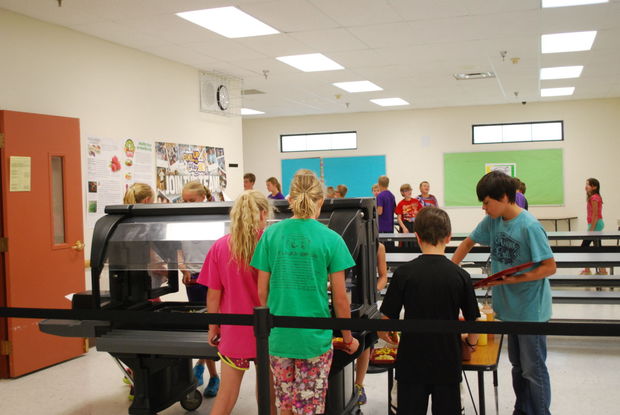 This story appeared in the Black Hills Journal, and the Butte County Post
By Emily Niebrugge, Black Hills Journal Staff
The Belle Fourche and Meade school districts are seeing increases in children taking advantage of their summer meals programs, and while food supervisors are grateful to see the numbers increasing, they also believe there are more who can take advantage of the help.
Each day, Justin Olson sees about 60 children come in for the food service's breakfast meal, and around 170 lunches.
"It's been a good year," said Olson, food service manager for the Belle Fourche school district, which has served summer meals for the last three years.
While he has seen an increase this year, he said summer enrollment for other programs, like Camp Oasis, is also up, which could contribute to serving more meals.
Olson and his staff provide sack lunches for that group four days a week, as well as serving breakfast and lunch at the middle school.
Part of the national Summer Food Service Program, both programs in Belle Fourche and Sturgis provide free meals for anyone 18 years old and younger.
In South Dakota, 17.9 percent of kids who received free or reduced lunches at school also received summer meals in 2014, according to a release from United States Department of Agriculture Summer Food Service Program.
"I have no doubt that the kids we're seeing come in aren't always getting what they need at home," said Laurie Lorius, supervisor of the Meade School District program, which averages about 170 lunches every day. "We've had parents call us and tell them this is great, because they can't beat the price, especially for families who have a lot of kids."
Lorius said sometimes people may think the program is solely for low-income families, but that is not the case, she added.
"It's completely open to the public for anyone 18 or younger," she said. "I think more people should be coming in and taking advantage of this."
Whitewood school district also has a fresh fruits and vegetables program during the school year, as well as Belle Fourche, where students can have as many fruits and vegetables as they like.
"I'm always surprised by what these kids choose to eat," Olson said. "In the beginning I thought these kids won't eat (fruits and vegetables), and when the recent requirement made students take a fruit or a vegetable, it might have produced some more waste, but I was surprised by what they chose to eat."