Belle Fourche food service overcomes hurdles to keep kids fed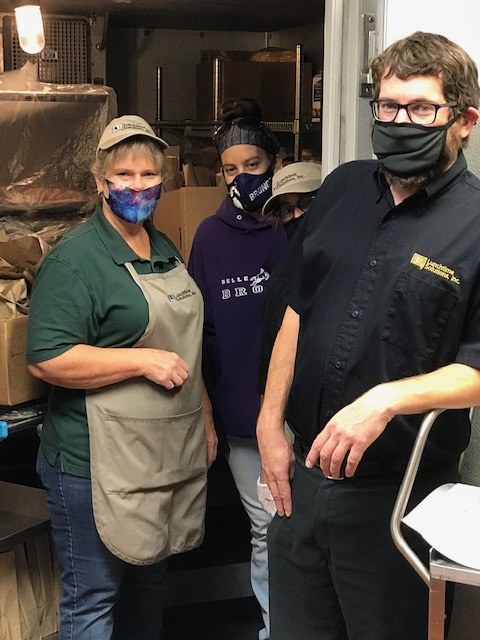 Thanks to the
Black Hills Pioneer
for sharing the story of how our Food Service Director Justin Olson and team adapted our food service program in Belle Fourche, SD, to serve a total of more than 100,000 free meals last year to students who were out of school or learning virtually. It was a success, thanks to the help of our district partner!
BELLE FOURCHE –– Many Northern Hills parents are filled with concerns about health, finances, security, and more, but in Belle Fourche, Lunchtime Solutions has gone the extra mile to ensure parents needn't worry about how they'll feed their kids.
The Belle Fourche School Board held its annual retreat Monday, which included the yearly opportunity for the board to sample cafeteria food to get a feel for what district students' lunches are like.
Justin Olson, the Lunchtime Solutions food service director in Belle Fourche presented to the board Monday to give an annual update about the district's food service contract.
"We try and show you guys what it's like for the students to come through the lunch line every day," he said.
Lunchtime Solutions, which has been the district's food service provider since 2012, works with local school districts in South Dakota, Nebraska, Iowa, Minnesota, and Missouri to operate food service programs and to provide healthy, fresh-tasting, contemporary menu choices for students.
Olson said the 2019-2020 and 2020-2021 school years were accompanied by a number of speedbumps related to the COVID-19 pandemic. But the lunch service took them in stride, overcoming the hurdles, and readjusting in warp speed to accommodate student needs.
"It's been tough, I'm not going to lie," Olson said. "We're in the same boat as everybody."
When Gov. Kristi Noem ordered schools across the state to close in March 2020 due to the pandemic, Olson said he and his crew swiftly switched gears and immediately began providing free breakfasts and lunches to Belle Fourche children between the ages of birth-18. School work was carried out virtually for the remainder of the school year. Lunchtime Solutions continued to offer free meals to Belle Fourche children through the summer, paid for by the USDA.
Roughly four months later, on July 15, 2020, the district and Lunchtime Solutions announced they had served 75,000 meals to the community's youth.
"That's a testament to our partnership with the district, … working with the state … to pull this off," Olson said. "But we literally pulled that out on day one. And my staff has been incredible."
Monday's meeting was held in the middle school lunchroom, the district's primary cafeteria hub from which the entirety of the district's meals originate. All of the district's food vendors deliver the food directly to the middle school cafeteria. From there, Olson said meals are prepared and then delivered to the other three school buildings daily.
After school resumed in the fall, Olson said that the lunch program sustained its COVID mitigation strategy, continuing its usual safety and disinfectant processes, and bolstering the plan when necessary. One such item was requiring servers to wear facemasks, even though it has never been a hard requirement for district students or staff.
Lunchtime Solutions had more hurdles to overcome as approximately 145 of the district's student body participated in distance learning during the first half of the year. That necessitated the food service program to serve the majority of students in the typical in person "lunch line," while still providing opportunities for the virtual students to collect meals as needed.
Olson said he and his crew created an online system through which students schooling from home could order their hot meals in advance and pick them up from the middle school lunchroom.
"And we provide that every school day," he said.
The Belle Fourche School District lunch program feeds 50-70 virtual students, in addition to the normal feeding operations, each day.
"There's people talking to Belle Fourche asking, 'How are you doing it?' because it's been very successful," he said. "And it's continuing, and we're altering it and making it better all the time."
One of the big changes for the district this school year, Olson said, was that the district qualified to serve free breakfast and lunch meals to every student for the entire school year, thanks to a USDA waiver. Additionally, when the district was notified near the end of September 2020 that it had qualified for school year waiver benefits, the district reimbursed any funds that area parents had paid toward their children's meals to that point.
Due to COVID-19 mitigation efforts, Olson said the lunch program had to shrink its typical selection of food options. Now, as area COVID-19 numbers are low and restrictions continue to loosen, he said the district is working to begin offering a broader selection of food.
"So, one of the things we've started trying is at the high school level … we're starting to add back our fruit and vegetable bar," Olson said, adding that while the program continued to offer unlimited amounts of fruits and vegetables to students, because self-service "bars" were frowned upon during the pandemic, the school had to reel in the number of offerings it could physically serve.
"As we're moving forward and things are getting more relaxed … we're working with the district to try and offer more and more choices as we go," he said.
Although the path has not been an easy one, Olson said he's proud of what he and his crew have done for the Belle Fourche community.
"We've really had to navigate some crazy stuff to get through (for) this community … I think we've really done an excellent job," he said, adding the partnership with the school district makes it all come together. "I think we all have the same goal, and that's to provide food to the community and the kids that need it."