A Day in the Life of a New Food Service Director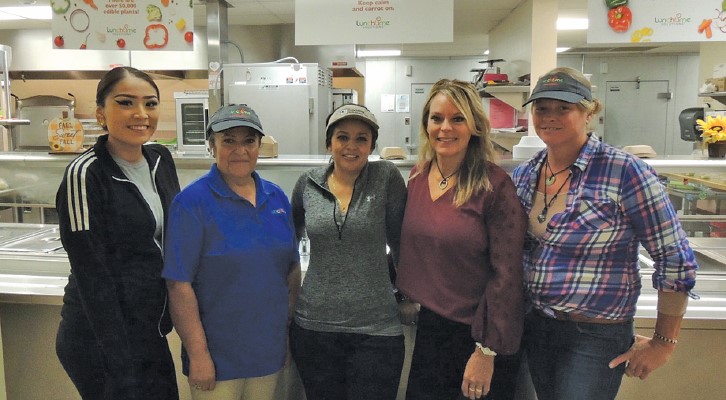 By: Esther Noe, Hill City Prevailer

The Hill City School District has an almost-entirely new cafeteria team this year led by Erica Layton, the new food service director through Lunchtime Solutions.
Layton and her husband lived in South Dakota for a time before moving to Alaska and later Arizona. However, they always wanted to come back. "Out of every place we lived, this is our favorite," Layton said. "This is home."

Recently, Layton and her husband moved to Custer to retire. Although she was not planning to work, Layton did a little job hunting to see what positions were available in the area and stumbled across Lunchtime Solutions. Their mission statement and methods blew her away. "Somebody is actually doing something to improve the nutrition and improve the health of our children," Layton thought.

Growing up, Layton remembers not having a kitchen at her school. Instead, the food had to be trucked over, and it arrived cold and unappetizing. As a result, Layton never ate hot lunches in school.

However, nutrition has always been one of Layton's passions. Previously she was a chiropractor and physical therapist. She even has an undergrad degree in biochemistry. As a result, nutrition was always something she emphasized to her patients. With this combined experience and passion, Layton submitted a resume and heard back shortly after. She is now the food service director for both the Custer and Hill City school districts. "I guess I was supposed to be here. It was kind of a fate thing," said Layton.

As the food service director, Layton's primary responsibility "is to make sure the kids are fed nutritiously and safely." This requires a lot of work behind the scenes. First, Layton plans the menus, which are on a five-week cycle. Within this, the nutrients are counted for every week to ensure everything is U.S. Department of Agriculture compliant.

Once the menus are done she does the ordering and inventory. When the food arrives, everything must be logged and temp checked. The fresh produce must be inspected for quality as well. Right now, Layton said, "We're trying to do as much local sourcing as we can, which is kind of fun."

Keeping the budget balanced and avoiding waste is another of Layton's responsibilities. Thankfully she has a great team to work with, she said. Layton plans to emphasize a team atmosphere where everyone is supportive, dependable and communicative. This will hopefully create a friendly and positive environment so everyone is excited to come to work. This team does a lot of work behind the scenes to make sure everything is accomplished.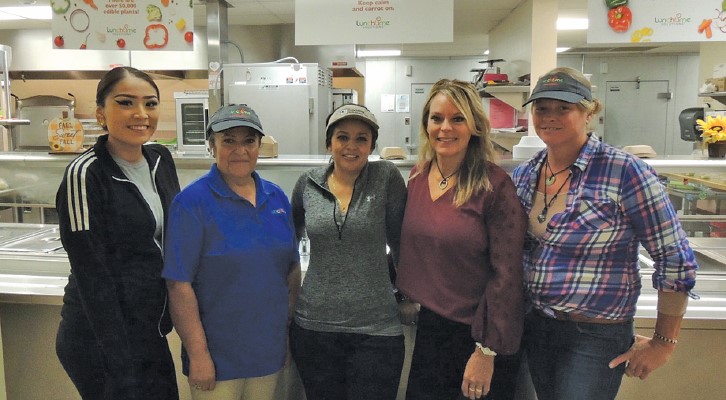 Long before the food is placed on the serving trays, the menus and supply orders are completed. Then the inventory is checked again to ensure everything is available to make the meals. Frozen food is also transferred to the cooler on a regular cycle so it is ready to cook at the appropriate time.

From here, the cafeteria team arrives early every morning to prepare breakfast. After breakfast is wrapped up the team starts preparing lunch with two and a half hours to get everything ready.

All the food is temperature checked at regular intervals to ensure it remains at the proper temperature. The dishwater is temperature checked to ensure sanitary practices are being adhered to. Even the sanitizing solutions are tested with chemical ph strips. In addition, everything must be documented per standard practices. "I know we're doing everything right by the book to keep everything safe because that's so important," said Layton.

All this is done to provide nutritious and appetizing meals for the students. Everything is prepared fresh, from the produce to the bread. There are both hot and cold entree options each day, an all you can eat fruit and veggie bar with 12 choices and accommodations for special diets. "I feel like there is something for everyone," said Layton.

The ultimate goal is to create a home-cooked family atmosphere for the kids. "It's very rewarding," said Layton.

Layton is excited about her new role as food service director particularly because good nutrition improves learning. There is also a strong sense of camaraderie at the school. Everyone including the students, teachers, principals and staff members are kind and respectful.

"We're all trying to achieve the same thing; a great school and great environment for the kids to be healthy and learn in. That's what it's all about," said Layton.